Holy Trinity and All Saints Church
Holy Trinity and All Saints Church, WInterton-on-Sea
Rev Clarence Porter's grave, which is in line with the alter
© All content copyright 2019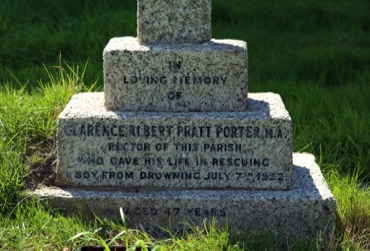 It is one of the four rural parishes Fr John is responsible for in the Flegg coastal group and like much of the rest of Winterton, it is dog friendly – in fact he has his own canine assistant Dixie, a rescue dog. Well-behaved pets are welcome at services.
The son of a shepherd, Fr John, who arrived in the village in February 2019 after two decades in charge at St Edmund in Hunstanton, is an experienced church organist as well as a priest. As a schoolboy in North Norfolk he played for both the Church of England and Methodist churches in his home village of Holkham.
Parish Mass is at 9am on a Sunday and the church is open daily between 9am and 6pm - or until dusk in winter.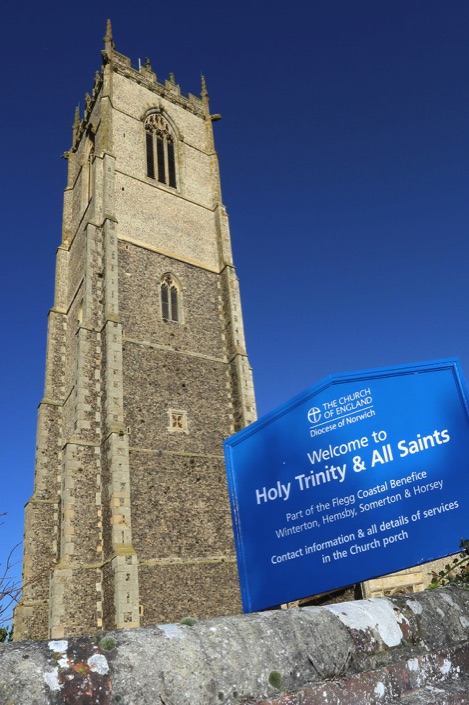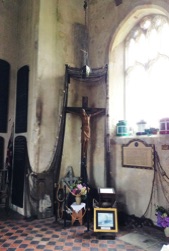 Inside Holy Trinity and All Saints Church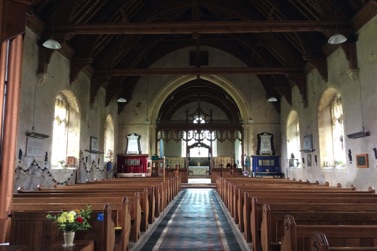 A bird's eye view from the top of the tower - open to the public during spring & summer
Saturday 2nd
10.00am - noon Churchyard clean up - join the team for a couple of hours work and don't forget your garden gloves.
Sunday 3rd
9.00am Parish Mass
Tuesday 5th
Noon - 1.30pm Shrove Tuesday pancakes and refreshments at Church Room
Wednesday 6th
7.00pm Ash Wednesday service
Thursday 7th
7.00pm Licensing service of Father John Bloomfield as priest in charge of Winterton, Hemsby, Somerton and Horsey
Friday 8th
9.00am Morning prayer at Winterton
Sunday 10th
9.00am Parish Mass
5.00pm Evening prayer
Friday 15th
9.00am Morning Prayer at Winterton
Sunday 17th
9.00am Parish Mass
Friday 22nd
9.00am Morning Prayer at Winterton
Sunday 24th
9.00am Parish Mass
Saturday 30th
8.00am until sold out - Beautiful baskets of flowers for Mother's Day on sale at the Church Room. Very reasonably priced and all profits go to Winterton Church
Sunday 31st
9.00am Mothering Sunday Mass with presentations of posies
Tickets for the Easter raffle are now on sale at Winterton Fish Bar, from Ray and Dawn Fletcher's stall and the church, (after Sunday service). The raffle will be drawn after the Easter Sunday service
Services & events during March
An aerial trip around the church
For general inquiries please phone Sandra Laws on 01493 393480
THE fishing heritage of Winterton is apparent as soon as you walk through the door of Holy Trinity and All Saints Church.
Nets from one of the last fishing boats that made a living from the beach hang from the walls and at the back of the church is Fisherman's Corner with a crucifix carved from ships' timbers.
The feature was the idea of one of current vicar Rev John Bloomfield's predecessors, Rev Clarence Porter, who was rector between 1925 and 1932.
Rev Porter's life was cut short when he suffered a heart attack after rescuing a choirboy from the sea and among the tributes to local lifeboatmen, who carried out daring rescues, is a memorial to him. He is buried in the churchyard and flowers are still occasionally laid on his grave.
Joseph Hume of nearby Burnley Hall, a 19th Century MP who campaigned against anti-trade union laws and protested against flogging being used as a punishment in the army, is also remembered on the walls of the church along with another Hume whose generous legacy can be seen in the beautifully carved roof and rood screen.
One of the 14th and 15th Century church's big claims to fame is the impressive tower. At over 132 feet high it dominates the landscape and served as a lookout post during times of war. Some of the soldiers who spent cold and lonely nights up there left their marks etched into the lead roof.
It underwent a major restoration in 2014 and now, on Saturdays during the spring and summer, it is open to the public and offers stunning views over the surrounding countryside as well as out to sea. On a clear day those who make the climb can see as far as Happisburgh lighthouse to the north and Caister water tower in the south. (Please see our slideshow).
Times and the local population may have changed over the years, but the church is still an important part of the village.
There is a flower festival that is well supported and people will also turn out for events like the Good Friday walk through the village following the 14 Stations of the Cross and even an Easter Day dawn service on the beach where a bonfire is lit.